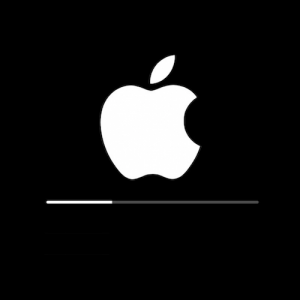 When your Mac shows an Apple logo, it simply means that it found the start-up disk, which is usually the disk built into your Mac. When the startup continues, you should see a progress bar, with or without the Apple logo. This screen might alternate with a blank screen once or twice. Such behavior of your Mac startup is normal.
---
What is not normal is that you observed an Apple logo or a progress bar much longer than usual. It is a sign that either your Mac is unable to complete the macOS update as intended, or the startup drive is having significant issues in its directory structures. Let's assume that the previous scenario is correct, then it is not much of a worry because you can format the drive and fresh reload the macOS. Your system should startup normally.
---
The question is whether you have a backup copy of your data safe. If you do not have a backup copy simply because you never thought your Mac would crash, or did not plan to make one, the table gets here messy. When a system drive fails to complete its macOS update even after several hours, it is questionable that it ever will. It is because the drive is already having issues and requires attention.
---
Now, if we assume that the startup drive is having significant issues, it is not recommended to let your Mac complete the progress bar hoping that it will get fixed eventually. It will not. Contrarily, your Mac may get overheated and might restart in a loop only damaging the drive further away.
---
Well, the good news is, turn your Mac off, and visit us as soon as possible. If you are far away from us, simply Mail-in your Mac. We can help recover your data, as well as fix the drive and re-roll fresh new macOS on it, restore data and get back it going in no time. Are you ready?
---
You may schedule an appointment online, or mail-in your device from anywhere in the world.
Follow the link below and tell us what is happening with your device. Setting up appointment is just as simple. Schedule an appointment here →
---
Not decided whether you need to setup an appointment yet?