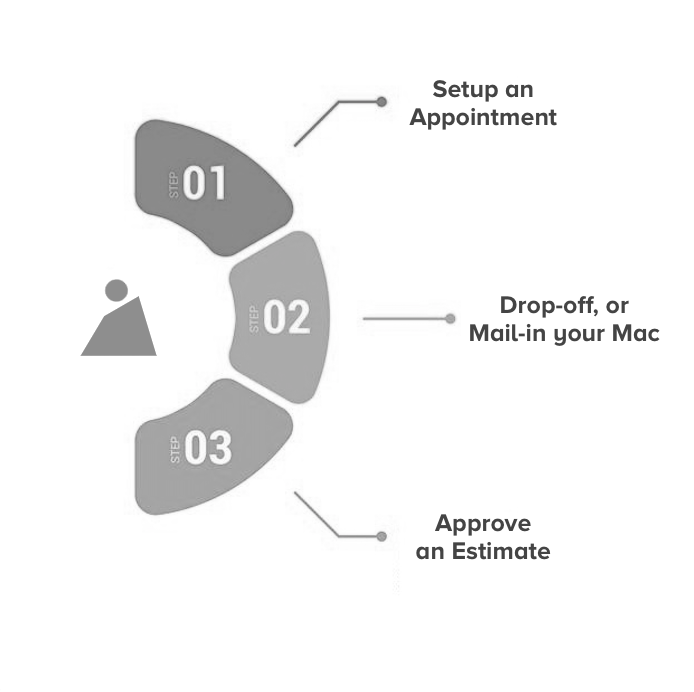 We provide you with the findings, explain how we resolve those Mac issues, and offer you the resolution in the minimum time possible. We can service, recover, upgrade or custom configure any Mac, regardless of its age, modal, or component-based complexity. Getting your Mac serviced with us is easy:
1. Setup Appointment
We do not accept walk-ins as a Covid-19 precaution. Please schedule an appointment so that we have all the info we need prior to your visit at the service shop. Mail-in service requires a mail-in form submission so that we can track, receive, service and update your Mac in the least time possible.
Now you can submit a Mail-in Service Request → or set up an Appointment →
---

2. Drop-off/Mail-in Device
Since you have setup an appointment, you may now drop-off your device at our 5th Avenue location. If you are mailing in for service, you may follow the steps mentioned above. When we receive your device, we will expedite an evaluation, and update you with an estimate. If you have macOS issues, you can skip an appointment and request an estimate instead.
macOS issues are often resolvable remotely. Request an estimate here →
---

3. Approve Estimate
Once your device is received and evaluated, we will estimate you accurately. Approve the estimate. When done, we will first complete service(s) required, and then invoice you. You may pay when you come to pick up or pay online. If you are requesting mail-in service, you may pay the invoice following the invoice link — return service will be expedited. That's it.
Are you ready to setup an appointment now? Let's begin here →
---
Not decided whether you need to setup an appointment yet?